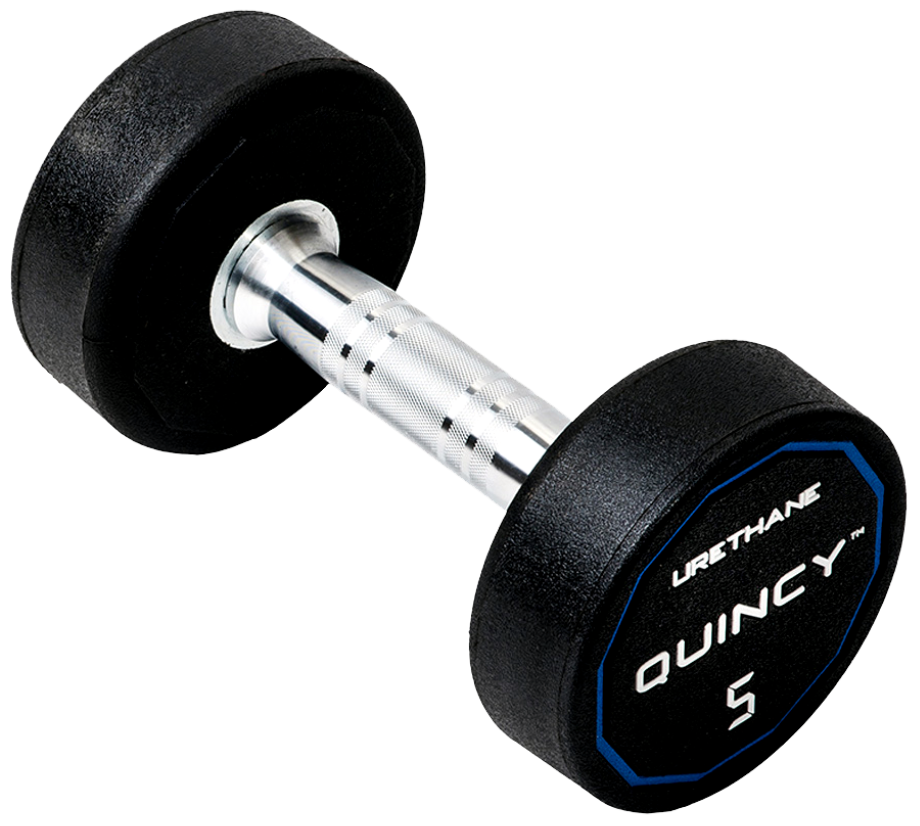 Our urethane dumbbells, part of the Clock Line of products, have many unique features and take advantage of two special technologies. As all Quincy Sport products, they were created in collaboration with numerous Olympic medalists, by athletes – for athletes.
The most well-known technology used in these dumbbells is Ellipse-Grip™. This is a grip that is fully adapted to the anatomy of the hand, which means you do not need to focus on how to hold the dumbbell during exercise. This grip will do it for you! In addition, the Ellipse-Grip™ design matches the natural curvature of the palm, thereby eliminating technical errors and possible injuries.
The Ellipse-Grip™ is coated with top-quality chrome, making it completely safe. Users do not have to worry about possibly being hurt by chrome falling off. The round head shape allows for doing a wider range of exercises than with hexagonal or twelve-sided dumbbells.
The dumbbell heads are made of pure urethane, with an additional grainy structure that gives them a unique look. Quincy Sport is confident in the exceptional quality of these dumbbells and provides 5 years of commercial warranty on them.
Urethane is an organic chemical compound characterised by extremely high durability. Quincy Sport technologists are specialists in producing urethane products since 2001, when other companies did not even think about using urethane in the manufacturing of sports equipment.
Urethane is known for its remarkable resistance to external factors, both atmospheric and chemical. It is a very strong substance and therefore is not susceptible to mechanical damage. Even after long and intensive use, the dumbbells will remain in very good condition. Urethane is odourless, which means that by investing in these urethane products you will avoid the worst property of poor quality dumbbells – the smell of rubber.
Urethane Dumbbells - Clock Line
5 years of commercial warranty
Dodecagon Shape - blue, Urethane - black
Dodecagon Shape - any colour from the PANTONE palette
2.5 kg - 50 kg (increments of 2.5 kg)
50 kg - 80 kg (increments of 5 kg)
5 lb - 100 lb (increments of 5 lb)
100 lb - 160 lb (increments of 10 lb)